Stacy Haviland, 1st degree black belt, age 42, Stellhorn Studio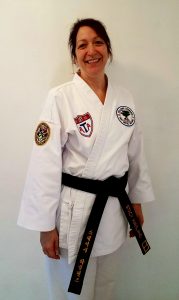 At first glance, Stacy is a pretty, friendly young wife and mom. I had the chance to talk with her, and found that along with those things, she's got the heart of a black belt. Her husband Cody had a background in martial arts, and they wanted to get their son Jacob, then age 9, involved. When they went to Stellhorn for his intro, their daughter Molly, then 7, wanted to start as well. Stacy was happy to give support from the bleachers, as Cody, Jacob and Molly began their taekwondo journey. Then Cody got Stacy to take a women's self-defense class taught by Maria Hannah and Kacey Deverell. Stacy immediately saw the potential benefits, not only the physical fitness, but the comraderie of an awesome group of women. She signed right up! Two years later, she and Molly earned their black belts, and Cody and Jacob will test for theirs in a few weeks. Here are her candid replies to my questions:
Age when started taekwondo: 40
Other activities Stacy enjoys: gardening when weather permits; crocheting and hiking. Last year she and her family took their dream trip to the Sequoias in California, and have also hiked a beautiful trail in the Appalachian Mountains in east Tennessee.
Most difficult part of taekwondo so far: Learning to spar! Aside from the fear of getting hurt, she found it difficult to purposely punch and hit people who she considers friends, and who she has no reason to beat up. She's getting the hang of it, and starting to enjoy it more.
Favorite thing about taekwondo so far? Stacy has gained a great amount of self-confidence since starting her journey. At about the same time she donned her white belt, she was deciding on a job change that would benefit she and her family greatly, but it was a scary prospect. She said that when she went in for her interview, she could hear the voice of Miss Hannah, her instructor, in her head: "Shoulders back, head up!" She gives Miss Hannah a lot of credit for the confident, successful woman she is becoming.
Ever hit a slump? Yes! She experienced what she calls burnout during the long months of red belt. Finding the time to practice at home, and the relearning and memorization of old material made those months long and hard. When I asked what kept her motivated to push through the slump, I could hear the smile in her voice as she said, "I wanted to wear my black belt and not just see it hanging on the wall!" That, along with the desire to continue maintaining and improving her physical fitness (she's lost 75 pounds since starting taekwondo!), are the things that keep her going.
Current martial arts goal: Mastering the joong bong (bo staff) so that she can compete with it in a tournament.
Stacy has competed in two Fort Wayne tournaments and a few inter-school tournaments. Through her tournament experience, she's made some great friends. She's considering competing in the upcoming tournament in a few weeks at the Grand Wayne Center. Good luck Stacy!