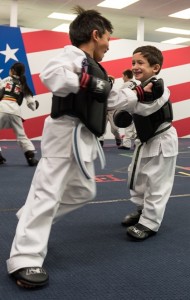 In 1984, one of the most memorable films to grace the silver screen made us have faith in the underdog all over again – The Karate Kid. Filled with action and a loveable cast, the inspiring story of young Daniel is still remembered fondly today by those who watched it in theaters. The film still captures the attention of children today, offering kick butt fight scenes and a message about reaching your potential. What parent could possibly refuse their child, in that case, when they ask to take karate lessons just like Daniel-san?
Parents will likely remember Ralph Macchio, the actor behind the crane kicks and waxing, as taking on several other successful roles during his career. Macchio still reflects fondly on his breakout role, however, and claims there's nothing quite like the magic of the original Karate Kid. He says that countless martial arts enthusiasts have visited him during conventions and appearances, claiming it was his portrayal of a young man that wouldn't give up that led them down the fulfilling path of karate.
As a testament to the unforgettable film and the legions of men and women it has inspired, a remake staring Jaden Smith made it to theaters in 2010. Macchio praises Smith's acting ability, as well as the movie's ability to reimagine the original film's spirit. Much like its predecessor, the 21st century remake tells the tale of a young man looking for his place in the world, finding it through the ancient lessons of martial arts. Doubtlessly spawning an entirely new generation of children fascinated with spin kicks and tournaments, parents can be reassured that karate classes also help develop good physical and mental health.
If your child has grown enamored by either Macchio or Smith's outstanding performance as the Martial Arts Master in the Rough, why not give them the opportunity to match the dreams of their role models? Kid's karate classes are available at affordable prices and flexible schedules, making it possible for your youngster to get a healthy dose of exercise and direction. Who knows, maybe you'll be sitting in the audience of a live karate tournament instead of watching one on the big screen next time!